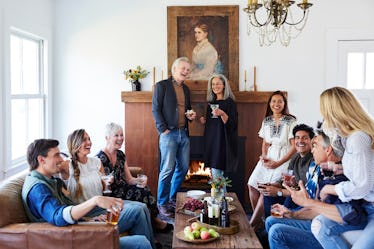 18 Quotes About Family That Describe Why You Love These Humans Endlessly
The people you surround yourself with (who support you beyond compare) are totally invaluable. That's why you have to cherish every moment you have with the ones you love, aka your family. Even if it's just a lazy Sunday at home watching TV with your dad, or a grand Thanksgiving meal with everyone in your extended family seated at the table, you're blessed to have them by your side. Every second with your family is a special one, and quotes about family totally hit the nail on the head as to why that is.
You just can't put a price tag on family. They are truly the one present we all can't wait to see when we run down the stairs on Christmas morning. You can use these 18 quotes about family to caption any Instagram pic you want to share on Thanksgiving day. You can also send one in a text letting someone know you care, or put it in a card to send to family who couldn't be with you over the holiday. Whatever you do, just letting your family know how just how much you love them with every chance you get is something we should all be doing a lot more of. It shouldn't be just Thanksgiving day that we say how we feel. I'm sure your family doesn't need you to keep reminding them, but you know, it doesn't hurt to hear.
1. "When you love what you have, you have everything you need." — Unknown
2. "Family isn't defined only by last names or by blood; it's defined by commitment and by love. It means showing up when they need it most. It means having each other's backs. It means choosing to love each other even on those days when you struggle to like each other. It means never giving up on each other!" — Dave Willis
3. "Family; a little bit of crazy, a little bit of loud, and a whole lot of love." — Unknown
4. "Ohana means family. Family means nobody gets left behind or forgotten." — Lilo & Stitch
5. "Family; life's greatest blessing. A group that dreams, laughs, plays, and loves together. Those whom you can always count on. Always present not only in the good times. The most precious gift." — Unknown
6. "It's not what we have in life, but who we have in our life that counts." — J. M. Laurence
7. "The best things in life are the people we love, the places we've been, and the memories we've made along the way." — Unknown
8. "Family; like branches on a tree, we all grow in different directions, but our roots remain as one." — Unknown
9. "The love of a family is life's greatest blessing." — Eva Burrows
10. "When we have each other, we have everything." — Unknown
11. "Family. Where life begins. And love never ends." — Unknown
12. "Love your family. Spend time, be kind, and serve one another. Make no room for regrets. Tomorrow is not promised and today is short." — Unknown
13. "You are my home." — Unknown
14. "Find your tribe. Love them hard." — Unknown
15. "Home is wherever my bunch of crazies are." — Unknown
16. "When I look at you, I can feel it. I look at you, and I'm home." — Finding Nemo
17. "This is my family. I found it all on my own. It's little, and broken. But still good. Yeah, still good." — Lilo & Stitch
18. "Family is like music. Some high notes, some low notes, but always a beautiful song." — Unknown