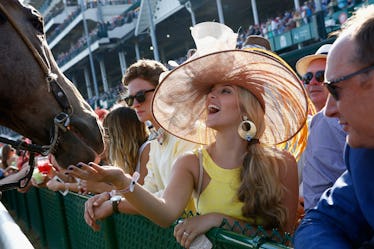 18 Kentucky Derby Instagram Captions, Because It's Time To Saddle Up
Michael Hickey/Getty Images Entertainment/Getty Images
From the refreshing mint juleps to the stylish hats and crowds clad in pastel sundresses and button-downs, the Kentucky Derby weekend at Louisville's Churchill Downs Racetrack is incredibly picturesque. Even if you're throwing a Kentucky Derby party of your own at home, you should still have your camera ready. You'll need to saddle up those Kentucky Derby Instagram captions now so you can start debating which lovely hat you're going to sport.
The Kentucky Derby falls on the weekend of May 4, so the fun to be had isn't trotting too far off. This weekend is jam-packed with events that have been practiced for years. Many of your favorite celebs have frequented the grounds, and the "My Old Kentucky Home" song will seemingly never get old. If you're attending, you're likely crossing an event off of your dream bucket list.
Surprisingly, the Kentucky Derby weekend isn't solely about the race. And once you're smack dab in the middle of all of the action, it'll be hard to keep your attention on one thing. So, whether you're tipping your fashionable hat or sipping on a mint julep at home or at the actual event, you can place your bet on any of these captions and really express the excitement of it all.
1. "To be born in Kentucky is a heritage; to brag about it is a habit; to appreciate it is a virtue." ― Irvin Cobb
2. "There are some things one is born to wear, and I had obviously been fated to wear this hat." ― Connie Willis
3. "A piece of magic is a hat." — Martha Sliter
4. "Heaven must be a Kentucky kind of place." ―Daniel Boone
5. "How a hat makes you feel is what a hat is all about." — Philip Treacy
6. "There are exactly as many special occasions in life as we choose to celebrate." ― Robert Brault
7. "The purpose of life is to live it, to taste experience to the utmost, to reach out eagerly and without fear for newer and richer experience." — Eleanor Roosevelt
8. "Simply enjoy life and the great pleasures that come with it." — Karolina Kurkova
9. "Let the race begin." — Unknown
10. "Hats are for life's ultimate moments. They're worn at races, at weddings. Occasions many of us, who aren't royals and celebrities, only attend once or twice in a lifetime." — Philip Treacy
11. "A few more days till we totter on the road, Then my old Kentucky Home, good-night!" — Stephen Foster, "My Old Kentucky Home, Good-Night"
12. "My friend, you're in trouble. This town is flat full. Always is, for the Derby." — Hunter S. Thompson, The Kentucky Derby is Decadent and Depraved
13. "I can wear a hat or take it off, but either way it's a conversation piece." — Hedda Hopper
14. "A hat is an expression of a woman's soul. It is something that she wears on her head, but it belongs to her heart. It is the keynote of her personality, the finishing touch that makes her look beautiful, smart, and sure of herself." — Lilly Dache
15. "If these United States can be called a body, then Kentucky can be called its heart." — Jesse Stuart
16. "Keep calm and wear a fancy hat." — Unknown
17. "Observing the tradition from the outside, it looks like it's about looking fine in a big fancy hat. But it's about more than that." — Craig Marberry
18. "It is the destiny of mint to be crushed." — Waverley Root
The Kentucky Derby is deep-rooted with traditions, but it has certainly evolved into something so many people enjoy, near or far. For hosting one of the shortest races, it sure does leave an everlasting impression on so many people.