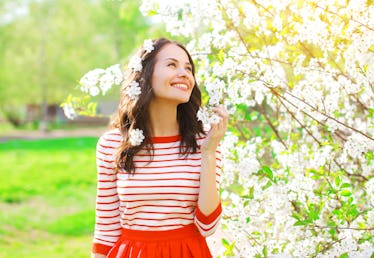 17 Quotes For A Quarter-Life Crisis That Will Help You Keep It Together
Aside from being handed a slice of your favorite cake or a celebratory drink on your 25th birthday, you're also privy to delving head first into a quarter-life crisis. No one really knows the origin of why 25 is just that age where you might begin to freak out about your goals and your accomplishments. If you're hesitant about posting anything during this trying time, there are definitely some amazing quotes for a quarter-life crisis that will help you cope and keep your sh*t together.
The more you stop seeing 25 as some sort of taboo time where you have to over-analyze everything you've done so far, you're off to a good start. A picture for this special time in your life is necessary, and you can be a trailblazer by adding some confidently placed words under your proud-to-be 25 image. Set the record straight that 25 doesn't have to be the end of anything, but the beginning of an exciting new adventure that should be anticipated, not repelled.
We don't have control over anyone's outlook but our own, and with a perfectly poised caption and picture, you're setting your own rules for how 25 should look on you. If you need a little boost toward effortless inspiration, these quotes are surely worth reading (and make for awesome Instagram captions, too).
1. "Age is an issue of mind over matter. If you don't mind, it don't matter." — Mark Twain
2. "Youth is the gift of nature, but age is a work of art." — Stanislaw Jerzy Lec
3. "Aging is not lost youth but a new stage of opportunity and strength." — Betty Freidan
4. "And the day came when the risk to remain tight in a bud was more painful than the risk it took to blossom." — Anaïs Nin
5. "It's only after you've stepped outside your comfort zone that you begin to change, grow, and transform." — Roy T. Bennett
6. "Grown up, and that is a terribly hard thing to do. It is much easier to skip it and go from one childhood to another." — F. Scott Fitzgerald
7. "The greatest thing in this world is not so much where we stand as in what direction we are moving." — Johann Wolfgang von Goethe
8. "Life is a journey, and if you fall in love with the journey, you will be in love forever." — Peter Hagerty
9. "Happiness is not a station you arrive at, but a manner of traveling." — Margaret Lee Runbeck
10. "In our lives, change is unavoidable, loss is unavoidable. In the adaptability and ease with which we experience change, lies our happiness and freedom." — Buddha
11. "Happiness is not having what you want. It is appreciating what you have." — Unknown
12. "I am not bound to win, but I am bound to be true. I am not bound to succeed, but I am bound to live up to what light I have." — Abraham Lincoln
13. "To be content means that you realize you contain what you seek." — Alan Cohen
14. "Stop comparing yourself to others. Always strive to improve yourself to become better today than you were yesterday to serve those around you and the world." — Roy T. Bennett
15. "You will never be entirely comfortable. This is the truth behind the champion - he is always fighting something. To do otherwise is to settle." — Julien Smith, The Flinch
16. "If we don't change, we don't grow. If we don't grow, we aren't really living." — Gail Sheehy
17. "Things do not grow better; they remain as they are. It is we who grow better, by the changes we make in ourselves." — Swami Vivekananda