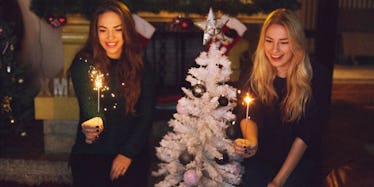 16 Tweets About Dating & Relationships During The Holidays That Are So Relatable
One of the best things about the holiday season is when you have someone to share it with. While I am single this year, some of my best holiday memories include the ones I spent Christmas with my then-boyfriend and his family. Since I am Jewish, it was especially fun to participate in new Christmas traditions and rituals that I never get to experience with my own family. The following tweets about dating and relationships during the 2018 holiday season will feel all-too relatable for those in relationships now or who have been in the past.
Whether you're newly dating your partner, have been together for years, are long-distance, or in school together, the holidays are a special time to spend together. You get to eat delicious home-cooked food, get in quality bonding time with your significant other's family (or them with yours), and get to pick out gifts that they're sure to love. So what else to do than tweet about these wonderful moments with your significant other? I rounded up a list of some way relatable tweets about holidays with your significant other, so read on for the best of the bunch.