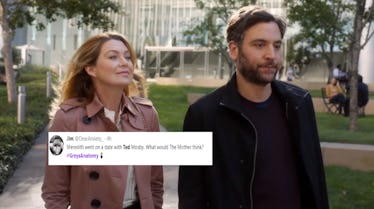 15 Tweets About Ted Mosby On 'Grey's Anatomy' That Perfectly Sum Up Your Emotions
ABC
Haaaave you met Ted? On Oct. 11's Grey's Anatomy episode, How I Met Your Mother's Josh Radnor appeared as Meredith's first blind date since she lost her husband Derek several years ago. Even when he's portraying other roles, it's a little difficult to differentiate Radnor from the sitcom character he played for nine years, and his Grey's Anatomy character John was no exception. Although his date with Meredith started out smoothly, John managed to screw things up with a very Mosby-esque blunder, and these tweets about Ted Mosby on Grey's Anatomy perfectly capture our feelings about it.
Following matchmaker Sandra's instructions about not stalking her man beforehand, Meredith fully primped herself for her mystery lunch date in "Momma Knows Best," much to the shock of her fellow doctors. She consulted Alex for advice on how to ditch her date if it wasn't going well, showing that Meredith still felt very skeptic about the outing. However, when she met Radnor's John, the two hit it off over their commitment to their work, and they even stuck with each other after realizing that their actual dates were elsewhere in the restaurant.
The day turned sour when John revealed he thought single moms were desperate, uttering Meredith's "one thing" that would totally ruin a perfectly fine date. She walked away from him, and while Radnor's IMDb page currently only lists one Grey's Anatomy episode, there's always a chance of John popping up again unexpectedly. While viewers on Twitter were quick to compare John's faux pas to Ted's tendency to overstep, Radnor's appearance initially intrigued them. After all, who would've thought that Ted Mosby (OK, OK, John) exists outside of New York?
Although John had no kids, any fan theories insisting that John is basically a widowed Ted trying out a new life in Seattle can cease and desist. In the timeline of How I Met Your Mother, Ted and Tracy, the Mother, were still together in 2018, and Tracy didn't pass away until 2024. So while Ted and John are definitely different, they might be long-lost brothers, because John's remark about single mothers was a classic Schmosby snafu. Grey's Anatomy fans were quick to point out John's Ted-like quality after offending Meredith.
While Meredith wrote off John as a failure, Radnor has possibly dropped a clue that we'll see the character again. On the actor's Twitter page, he didn't share news of his casting until the day "Momma Knows Best" aired and retweeted an older article about his role later that day. Would it make sense to promote the role and a lengthy press report about it only hours before his only appearance? Shondaland is keeping quiet about John's future, but a few fans are up for giving the character a second chance.
Although John left her feeling disappointed, Meredith looking outside the hospital for love is definitely a step in the right direction. Maybe Sandra the matchmaker will talk her into seeing Ted Mosby one more time before moving on completely.
Season 15 of Grey's Anatomy continues on Thursday, Oct. 18, at 8 p.m. ET on ABC.