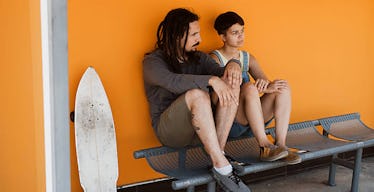 15 Tweets About Breakups That Feel Way Too Real, So Break Out The Tissues
If you're currently experiencing your own breakup, or are reflecting on one in the past, you'll know it's hard to find the "right" way to cope. There are so many uncertainties: How long are you supposed to be sad? When do you start dating again? What details should you tell people and what should you leave out? Should you be friends with your ex, and if so, what does that communication look like? Tweets about breakups show that there are a variety of ways to handle the aftermath, and that no one way is right.
Regardless of whether you were best friends with your ex and the breakup is immediate and everything is raw and awful, or you've felt numb in the relationship for awhile and feel relieved to be relinquished from the relationship, a breakup can still signify a major change in your life. Beyond blasting breakup playlists on Spotify to the loudest your speakers will go, speaking to your closest friends, and watching your favorite TV show, you may find a bit of comfort in some tweets as well. You may not know these people, but you'll probably relate to their experiences, and seeing it laid out for you will validate your own feelings as well. Read on for some tweets about breakups.