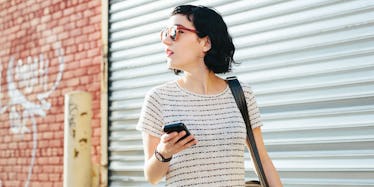 3 Breakup Apps To Try So You Don't Have To Go Through This Rough Patch Alone
Going through a breakup is always a tough thing. Even if it was your decision, parting ways with someone and saying goodbye to their place in your life is an adjustment. Old-school ways to get over a breakup included blasting music, eating ice cream, and crying into your friends' shoulders. With modern technology, we can now get over breakups with apps. Yep, our little devices can help mend our broken hearts. The following are a list of the best breakup apps that will do the hard work for you to move on from that person who is no longer in your life.
These apps all offer guidance, support, and the help you need to process and move on in your life in a healthy, personal, and accessible manner. Because sometimes a therapist is too expensive. Or your breakup playlist on Spotify is getting to redundant. And while your friend may say she's on-call 24/7 during your breakup, if you can't go to sleep at two in the morning and need a way to deal with the pain, you can always turn to your apps. Check out some of the best breakup apps to help you get through this time below.