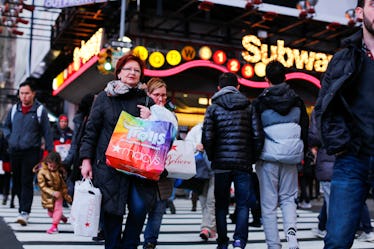 These Stores Give Back, If You Want Your Black Friday Shopping To Be Extra Meaningful
Eduardo Munoz Alvarez/Getty Images News/Getty Images
Looking ahead to the holidays to get your shopping done early this year? Way to not procrastinate! If you want to feel even better about yourself, consider supporting conscious and sustainable brands while you shop for your holiday gifts. Here are 15 stores that give back, so your Black Friday shopping is extra meaningful.
Last year, a surprising number of brands announced campaigns that would take advantage of Black Friday to maximize their charitable impact. For anyone who's dubious that these giving-back deals actually help? Last year, Patagonia raised and donated a record-breaking $10 million of its sales to nonprofits helping the environment thanks to Black Friday shoppers.
There are a lot of problems in the world demanding our attention. Fortunately, there are also a ton of conscious brands that are committed to helping combat them. While these aren't deals specifically related to Black Friday, these companies give back with every purchase, so you can still feel good about where you're putting your dollars. Here are a few to scope out as you dive into your holiday shopping.
Dress For The World You Want
Warm weather clothes and athletic wear is always a winner for holiday shopping. These brands help you check off your list while helping the world.
With every purchase, Uniform donates a school uniform to a Liberian child who would not be able to attend school without one. Threads 4 Thought is not only responsibly produced, but supports an agriculture program to help refugees. For the tree-hugging man in your life, clothing company Ecoths gives back to food banks to help fight hunger (and their clothes look super comfy).
Love Your Melon not only strives to give a beanie to every child diagnosed with cancer, but it also donates 50 percent of its profits to nonprofit partners fighting childhood cancer. Be cute and conscious in these beanies and scarves. And from Black Friday through Cyber Monday, the company's offering free shipping.
For the fitness and outdoors lover, Patagonia, Cotopaxi, The North Face, Columbia and others dominate the world of conscious athleisure wear that leaves consumers with both products and impacts that last. Athleta also has a conscious collection, and is a partner in the PACE program, which helps empower women in the garment industry.
Sock lovers can rest assured that their purchase is meaningful. For every sock purchased, Bombas donates a pair to homeless shelters and nonprofits nationwide. Plus, their styles are unique and on point.
Accessories To Complement Your Conscious Style
While clothes can be trickier to buy for some, accessories are often a safe bet. You'll win at gift giving with these super-cool finds.
Career-minded and style-conscious connoisseurs probably already own one of these must-have water bottles from S'well. But with multiple models and styles (they're now selling Swarovski-encrusted bottles!), there's reason to invest in more than one, and you can feel good about it, since S'well donates to UNICEF, working to provide clean drinking to populations in need.
For the humanitarian who can't have too many purses, Cuyana is a great brand. In fact, just about everything in their collection, from bags to sweaters, is wish list-worthy. And by participating in its Lean Closet program, you'll be helping victims of abuse in Los Angeles and earn shopping credit. What's not to love?
Another reason for purse joy: these cute pouches and bags from Bloom & Give will help send girls to school in developing countries like India, plus they won't break the bank.
For the people on your list who love their beauty and skincare regimens, Lush is a must. The company gives back to multiple organizations, including humanitarian, environmental, and animal rights groups, with the purchase of its Charity Pot.
Warby Parker donates a pair of glasses for every one you buy (plus, during the holiday season, your purchase comes with a deck of adorable mini playing cards, perfect for a stocking stuffer).
Shoe fiends already know that for every pair of our favorite Toms canvas slip-ons you buy, one pair is donated to a person in need. But did you know that Toms is now also providing safe drinking water, vision care, birth care, and bullying prevention to communities? Just more reason to justify stocking up on another cute pair this season.
Not finding the right thing yet? There's more where these came from, with a whole array of other clothing brands that are conscious and sustainable in their practices. Happy shopping!