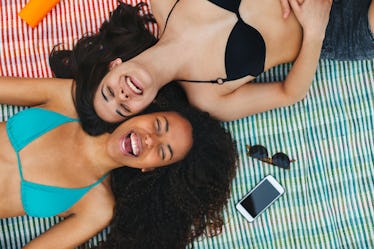 Kick Off Summer With A Memorial Day Thirst Trap Instagram & One Of These 15 Captions
Memorial Day honors American soldiers who lost their lives in active military service. It's an important day for American citizens and especially for those families who have lost loved ones in combat. Because it falls on the last Monday in May every year, Memorial Day also marks the unofficial start of summer (while Labor Day marks the end). The first three-day weekend of summer is often best spent at the beach, on a boat, at the park, or in someone's backyard. All that natural lighting probably means you'll be needing Instagram captions for Memorial Day Weekend photos of yourself, along with your favorite pair of sunnies and glitter sunscreen.
If I see one more summertime photo with the caption, "Sun's out, buns out," or "Girls just wanna have sun," I'm deleting my Instagram app. OK, that's a little dramatic and highly improbable since I'm high-key addicted to the 'gram, but those captions are overused. You're better than that —older, wiser, more creative than you were last summer. And dammit, your Instagram captions will prove it!
I find inspiration for my Instagram captions by taking in my surroundings when I'm about to post, reminiscing on how I felt the moment I took the photo, or interpreting the lyrics of whatever song is blasting through my earbuds. Your photos — staged or not — and captions should at least reflect your personality in some way because, otherwise, what's the point? If quirky humor is your thing, punny captions are the way to go. Can't put down that book you've been reading all spring? Drop a quote from it under a photo of you reading at the beach.
To get you started this summer, I've come up with 15 captions you can use for your #MDW snaps. Feel free to personalize them however you like before you post.