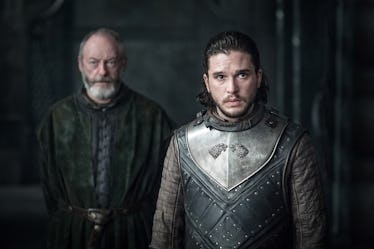 15 'Game Of Thrones' Christmas Sweaters To Keep You Warm When It Starts To (Jon) Snow
HBO
Black Friday has come and gone, as has Cyber Monday, which means it's now open season for ordering online for those gifts that absolutely, positively have to be here before winter. But what to get for all of your Game of Thrones-watching friends? Might we suggest perhaps throwing a Ugly Sweater party, and giving each of them something to wear? Because we can't think of a better excuse to buy these Game Of Thrones Christmas sweaters for the holiday.
Because of the elongated seasons, there no such thing as an annual Christmas celebration in Westeros. There's only winter, snow, cold and misery, as the populace prays there is enough food and water and supplies to get the next generation to survive until the arrival of spring over what could be months, if not years, or even decades. And yet the irony is that there seems to be more Christmas sweaters on Etsy — and ugly ones at that — designed for those who love the series to wear to show their spirit, both for the holiday and for the show.
With so many options to choose from, we've collected the best and the funniest Game of Thrones sweaters we could find, for you shopping pleasure. Behold:
Christmas Is Coming
Let's start with the highly tacky — an in-your-face Iron Throne surrounded by Christmas trees. Christmas is coming, indeed. You can find this Christmas sweater on Etsy from RudeMonster for $32.
Dreaming Of A White Christmas
This one features our newest bad guy for 2017 besides Trump, the Night King. He's dreaming of whiteout conditions this Christmas, I'm sure. Don't get stranded on the highway when he's marching. You can find this Night King sweater on Etsy from MikeysMashUps for $30.
I Saw Mummy Kissing Uncle Jaime
Poor Tommen! Or maybe poor Joffrey? Either way, it's not a good thing for a monarch to witness such travesties. This Jaime one is available on Etsy from FirstChoiceApparel for $30.
All I Want For Christmas Is...
Another one from the 2017 fresh for the season selection! Because it's a really good idea right now for men to wear shirts that tell women they want to make babies with them. For those brave enough to wear it, this Tormund Giantsbane special is also available from FirstChoiceApparel for $30.
House Targaryen
Pledge your allegiance. House Targaryen. Available on Etsy from FirstChoiceApparel for $30.
House Stark
Pledge your allegiance. House Stark. Available on Etsy from FirstChoiceApparel for $30.
There is no House Lannister sweater. No one is pledging their allegiance to Cersei. Please make a note of it.
A Very Tyrion Christmas
This one's from last year, with the Tyrion quote about drinkin' and knowin', which we assume is advice he'd give to Jon Snow if they ever got a chance to hang out one-on-one. This Tyrion sweater is available from LASignatureshirts for $26.
A Very Arya Christmas
A girl may have no ugly sweater, but I'm pretty sure No One will buy it. This Faceless Man's sweater is available on Etsy from PlanetSlay for $35.
A Very Daenerys Christmas
Mother of Dragons? No one wants dragons for Christmas. They're big, they're noisy, they light the Christmas tree on fire, and the cats won't go near them. Far better then to be the Queen everyone will vote for in the next Westeros general election, the Mother of Presents. This Daenerys shirt is available on Etsy from HighRezDesigns for $30.
A Very Cersei Christmas
You know what goes really well with the holidays? Big doses of shame. I swear it's true, ask my mother. Unlike the others, this one only comes in black and white, because that's appropriate. The Shame sweater is available on Etsy from LASignatureshirts for $20. Shame is also cheap. Who knew?
A Very Jon Snow Christmas
Honest to god, this is the only knit sweater I found in my entire hunt for ugly sweaters for this post. For that reason, this is my number one favorite, and recommend everyone buy it. The Real Deal Ugly Sweater Complete With Knit Jon Snow Face is available on Etsy from PersonalizedBy for $29.
Ho Ho Hodor
Hodor? Hodor. Hodor, ho ho Hodor. Hodor! Ho ho Hodor! Hodor Hodor Hodor Hodor Etsy Hodor FirstChoiceApparel Hodor $30.
Winter Is Coming
Sometimes the classics are what we really need. Ned would be proud. This Old School Motto sweater is available on Etsy from GiftIdeasFinder for $25.
A Dance of Dragons
I'm partial to this one because there's nothing that would instantly identify it. It's the Dance with Dragons logo, only recognizable to those in the know. The Dance With Dragons sweater is available on Etsy from Memeingful for $30.
Winter Is Here
Santa is totally down with the Night King. Does this mean he's bringing the Army of the Dead down the chimney? Let's not ask, nor sing songs about the potential consequences of not putting out proper cookie rations. This Santa Loves Night King sweater is available on Etsy from OneThreadWunder for $24.