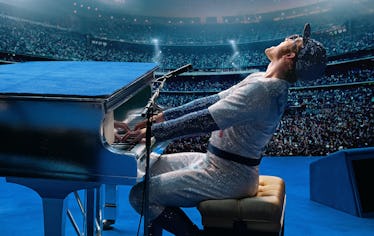 15 Elton John Songs You Should Know Know Before Seeing 'Rocketman'
Paramount Pictures
Rocketman is a fantasy movie musical inspired by the life and times of Elton John covering the first 40 years of his existence. A funny, yet poignant telling of his rise to fame, his years of addiction, and his path to sobriety and happiness, the film is punctuated at every turn with songs from John's 50-year career. How many Elton John songs does one need to know to enjoy the movie? Technically none, but considering how the songs are used, and the amount of easter eggs they represent, here's a rundown of the 15 biggest tunes in the film.
There are more than 15 songs in the film mind you. Counting every song the movie uses at least a snippet of, there are 24 of Elton John's hits laced throughout the film. Some, like "Daniel" and "I Guess That's Why They Call It The Blues" are basically easter egg references, songs John begins playing that his managers reject. Others, like "Rock and Roll Madonna," "Amoreena," and "Hercules" are used as montage music. There's even a credit to the cover of "Pinball Wizard" John is known for, though that song was originally written and recorded by The Who.
So which songs out of John's catalog should fans listen to before seeing the film? Here's a rundown.