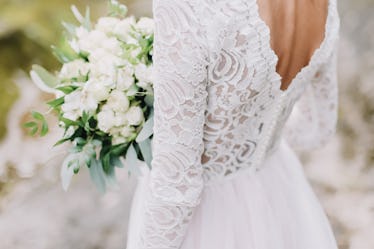 These 15 Dramatic Wedding Stories Will Make Your Jaw Drop
Shutterstock
While it's nice to hear lovely stories from beautiful weddings, let's be real: dramatic wedding stories can be way more fun. Between the high stakes, the intense emotions, and the open bars, nuptials can often take a turn for the wacky — especially, you know, if Aunt Barbara and Uncle Dave are in the same room together for the first time since their divorce in 1997. The truth is that not every wedding goes exactly as planned.
In a recent Reddit AskWomen thread, people shared the most dramatic things they've seen and heard at weddings and, oh man, they did not disappoint. From ripped wedding dresses to blackout drunk grooms, and double-booked churches to suddenly closed venues, it's clear that a surprising amount can go wrong... and that's not even counting all the awkward moments that can go down at the altar.
Despite hiccups during the nuptials themselves, there's no real proof out there that an awkward ceremony or even a disastrous reception will carry over into a ruined relationship. Accidents happen, and brides and grooms can't control everything. Ultimately, wedding drama is just that — a piece of gossip that has no real bearing on the actual marriage itself.