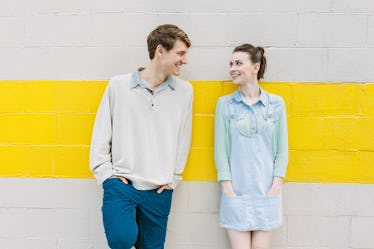 14 People Reveal The Adorable Places Their Parents Met In The Days Before Dating Apps
First, let me be very clear: yes, I understand that people met and liked each other before there were dating apps. Yes, I know that people fell in love before there was an internet. I know that from experience — shout out to my kindergarten crush! (If there was an internet in 1992, I did not have access to it because I was four.) Color me millennial, but I'm curious about exactly how people met their partners before dating apps.
My initial hypotheses are pretty basic: I assumed every Baby Boomer met their partner between Home Ec and free period because it was the 1960s. But Home Ec turned out to be a little bit sexist, and obviously not everyone married their high school sweethearts. What other meet-cutes were popular back in the day? Anything that might work out nowadays? Asking for a friend.
My parents met working at the same grocery store in high school in Northport, a town on Long Island. My dad was low-key obsessed with my mom and finally got up the courage to go in while she was working and he was not, buy a lottery ticket, and ask her out. They stayed married until my mom passed in 2017. Some people have all the luck.
College relationships are also certainly still a thing, but with dating apps in the mix, there's just no denying that within the next decade, there will be many more partnerships that started with "I swiped right." It's awesome to meet someone on a dating app — shout-out to my current crush! But in the spirit of nostalgia, here are 14 stories from millennials about how their parents met back in the day.