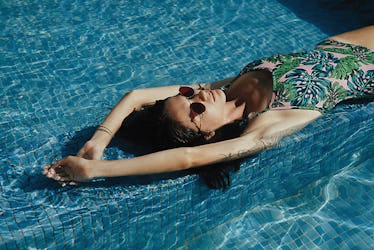 14 Tweets About Dating Water Signs That Are So Real, You'll LOL
Regardless of how much weight you put on astrology when it comes to relationships, there are so many fun, interesting insights that can be gleaned from learning about the zodiac. Although it would be far too limiting to let the teachings of the zodiac become your end-all and be-all for behavior analysis, it can be a helpful tool when trying to understand someone's default mode of operation. The following tweets about dating a water sign make it clear that water babies (for better or worse) have so much sensitivity and emotional intensity to bring to the table.
When it comes to figuring our Pisces, Scorpio, and Cancer baes, it's important to be aware of their depth of emotion. According to Astrology.com, water signs are "emotional and nurturing, and like a river, they run deep." Furthermore, "How things feel is what matters to these folks, and they base their actions on sense, rather than on logic or intellect." As sweet as this description sounds, it's safe to say most good qualities have not-so-positive sides. As a water sign myself, I can say from personal experience that we have our fair share of shortcomings. Also according to Astrology, "Water signs are susceptible to mood swings, and at their worst, they could become self-indulgent, controlling and hostage to a fantasy world."
If you're currently in a relationship with a wonderfully complex water bae, or you're thinking about locking one down, here are some tweets that will prepare you for the exciting (and dramatic) road ahead.