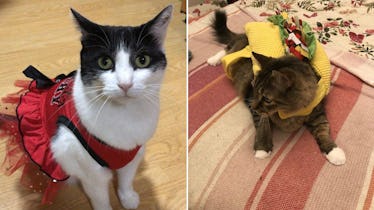 These Purrfect Pics Of Cats On Halloween Will Definitely Have You ~Feline Spooky~
Twitter
It's one thing to coax your furry pup into a costume for Halloween, but as far as I'm concerned, it's an entirely different ballgame to dress your cat up for the occasion. Honestly, looking at photos of cats' Halloween costumes is one of my main highlights of the holiday every single year. Not only are the pics totally adorable, but they can even provide a glimmer of hope for anyone who's a pet parent to, shall we say, a slightly grouchier kitty that hisses at the mere sight of a Halloween costume.
Despite the fact that cats aren't always as willing to dress up in costumes as dogs are, in some ways, I kind of think felines have an edge over pups when it comes to getting into the spirit of Halloween. Any kitty I've ever met is always much more mysterious in their demeanor and personality than a dog, and if your fur baby is totally black, then she's already dressed for the occasion, really.
And, look, I'll be honest: None of the little cuties on this list look super thrilled to be dressed as a taco or as the world's most adorable caterpillar — but I'm sure that at least a couple of them like the cozy feeling of wearing something soft, right? Personally, I'm lucky enough to have a cat who's just about the chillest little guy around, so I think my chances are pretty good that he'll actually love getting into the Halloween spirit this year. If you're not quite as lucky, though, feel free to live vicariously through these 14 adorable photos of cats' Halloween costumes.