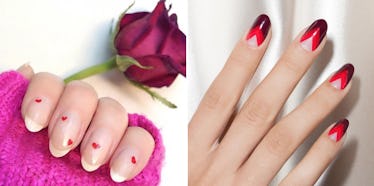 14 Nail Art Ideas For Valentine's Day That Won't Make You Nauseous
valleynyc on Instagram/fantasy.nyc on Instagram
Feb. 14 is quickly approaching, and whether you're single, in a relationship, or it's complicated, I say it's a day to celebrate love no matter what. This year, show off your V-Day enthusiasm by wearing your heart on your hands. These nail art ideas for Valentine's Day are festive AF without being at all corny, so you can wear them all February long.
Valentine's Day bring's out my inner Hallmark-loving cheesiness and I just can't help it. But why should I? Fake holiday or not, Valentine's Day is a nice reminder to tell the important people in your life (romantic or otherwise) how much you care about them. Or if you aren't so good with the words, a Valentine's Day-themed manicure can speak for you. Show off your on fleek nail art all month long with these legit chic designs. I promise, no cupids on your nails that you'll feel awkward about come Feb. 15.
If you're handy with a nail brush, try these designs yourself. If you're like me, you'll happily hand over your hard-earned money to have a professional get the job done. Either way, I recommend using a gel or shellac polish for longer lasting results (I've kept mine for up to three weeks!). Now onto the fun part, picking your nail art!
I Heart You
I know I said these wouldn't be your typical cheesy Valentine's Day designs, but I had to include some hearts. These itty bitty hearts look super cool on top of a clear base, I think they'd also look badass on top of a matte black polish. Get the DIY version with mini heart nail decals ($5; etsy.com).
You almost don't even notice these hearts, they go so well with the natural shape of the nail. See, not corny at all, right?
Lace Me Up
If you just can't with hearts, try a lace effect design. You can even buy stick on lace nail art ($6; bestnailstuff.com) because there is no way I could make those tiny little lines.
($3; amazon.com)
These black lace nail stickers are downright sexy, especially if your nails are naked underneath. If you've got a significant other this Valentine's Day, he or she will hardly be able to make it through dinner (wink wink).
50 Shades of Red
Geometric designs are an easy way to get a festive manicure in color only — no hearts, flowers, or cupid arrows. This bright to dark red gradient is V-Day appropriate, and the triangle shapes gives the illusion of longer nails.
Your nails don't have to be red or even bright pink. This dusty rose mani is artsy AF.
So many more ideas! Some of these designs are a little softer than your typical geometric styles but they're all chic and minimalist. The dark red ombré on the bottom is my personal favorite.
You're The One
If you're not into multi-colored nail art, you can go for a more traditional style manicure, but a glitter polish kicks it up a knotch. Zoya PixieDust in Lorna ($10; zoya.com) is a shimmery maroon hue that's seriously lust-worthy for V-day, and after.
($7; target.com)
If you're not already blown away by all my amazing Valentine's Day nail art ideas, sit tight because I'm not done yet. These are 3-D, clear nail art stickers. The floral pack is the most apt for V-Day, but you can also get a geometric design. The fact that they're clear is the best part though, you can paint your nails any color and the stickers will take on that same shade. At first glance your nails will appear a simple solid color, but upon closer inspection, you'll reveal your enviable designs.
Happy V-Day!