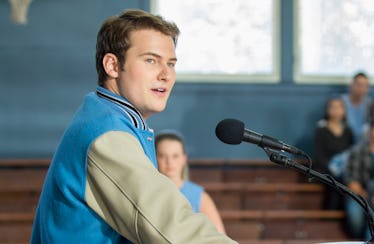 New Details About '13 Reasons Why' Season 2 Fit Right Into The #MeToo Movement
Netflix
Book loyalists are in for a change of pace when the Netflix drama 13 Reasons Why returns for its second season later this year. After Season 1 followed the intense plot of Jay Asher's 2007 book, Season 2 plans to introduce several new characters as well as different perspectives on Hannah Baker's story. With this vague outline in mind, we still don't know that much about how new episodes will differentiate from the first season, but cast member Kate Walsh has dropped some hints about what happens to the character Bryce, who raped both Jessica and Hannah last season. Her 13 Reasons Why Season 2 Bryce spoilers prove that the show will greatly connect to the #MeToo movement this year, and it sounds like the show will cover as many aspects of the campaign as possible.
Speaking to E! News, Walsh, who plays Hannah's mother Olivia, revealed that the audience will learn of Bryce's fate when Season 2 returns:
We go off the book this year, and it kind of continues along the Bryce Walker storyline. [We deal with] sexual assault, and culpability, and responsibility and truth and relationships... I think this storyline is fantastic and really does reflect what is happening in the culture at large, with bullying and sexual assault and gender identity and everything in relationships.
When we last saw Bryce in the Season 1 finale, he had just discovered the existence of Hannah's tapes, looking visibly troubled when he tried to convince Justin to spill more about them. Things didn't exactly end on a high note for anyone in the first season, but Bryce's future deservedly seemed particularly bleak. Seeing as 13 Reasons Why definitely isn't afraid to tackle difficult subjects, perhaps we can expect an intensely realistic portrayal of any legal consequences of Bryce's actions in Season 2.
In a 2017 interview with Coveteur, actor Justin Prentice said that he was as interested in the future of Bryce and his classmates as much as fans were, and that he has done his fair share of research to better understand Bryce:
Unfortunately, there's a lot of research these days because the topic is so relevant. There was, of course, Brock Turner — I kept up with that case. There are the Vanderbilt rape cases. I also had Alexis Jones of the 'I Am That Girl' movement, who tours the country doing locker room talks to high school and collage athletes for prevention of sexual assault, on speed dial because she's an expect... Between all of that, I was back and forth trying to construct the character. We wanted to make sure we got it right... I am just as invested, I think, as the viewers are, and I want to know just as badly, if not more, what happens to all of them.
The show's first season premiered only months before the #MeToo movement emerged at full force throughout Hollywood and other industries in the fall of 2017. Given what has happened in the year since 13 Reasons Why's debut, the show's brutally real messages are likely to be yet another strong representation of #MeToo in the media.
Despite the promise of such heavy content in Season 2, Walsh thinks that at the heart of the upcoming story, there is hope. She told E! News:
I think it's a much more redemptive and hope-filled season, too. You see my character developing relationships with different kids, trying to find out the truth, trying to assign responsibility for what happened with Hannah... You see how her death has affected the school and the community at large, and all these secrets and lies that come forth, too.
Netflix has yet to announce a release date for 13 Reasons Why Season 2, but it is confirmed to premiere at a later date in 2018. We'll have to wait and see how Bryce's actions catch up to him in future episodes.