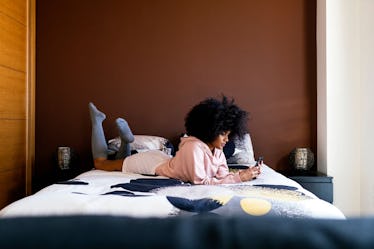 13 Funny Texts To Tease Your Partner At Work That Are Sexy & Will Make Them LOL
No matter what stage your relationship is in, sexting can be a great way to keep the sparks flying with bae. Few things are guaranteed to get their blood pumping like a flirty text from their favorite person (you). If they have a good sense of humor and aren't afraid to get a little silly, then there's a solid chance you'll get brownie points if you can make them laugh and turn them on at the same time. Sound too good to be true? It's not! There are a surprising amount of funny texts to tease your partner at work that will make them chuckle and get them ready for the evening's festivities.
Let's face it: Work can get a little dull from time to time, so assuming your bae isn't a surgeon, paramedic, or something else that requires they stay on their A-game 24/7, the occasional sext during working hours is probably a welcome distraction. That said, I'm not going to lie to you: If you're trying to send a funny sext, then chances are you're going to have to get a little cheesy, my friend. And honestly, there's nothing wrong with that! Doing and saying things your partner might not expect is a good way to keep them on their toes, so here are some funny texts that are sure to make their imagination run wild.
1. "Are you from accounting? Because I was ac-counting on seeing you later."
2. "Are you good with Excel? Then you must be good at spreadsheets."
3. "I'm sitting in a meeting and I can't stop thinking about everything you did to me last night. Hope you're ready for round two ;)"
4. "I picked up some whipped cream to slather all over dessert — or, you could always just slather it all over me."
5. "Do you have a to-do list? If so, put me on it."
6. "I hope you don't get too tired out at work. You'll need some energy left for the workout I've got planned."
7. "Hoping your day is filled with green traffic lights, fast lines at the supermarket and all the quickest routes that will bring you straight back into my bed."
8. "Me so horny, come home now."
9. "Do you know any good cardiologists because my heart skips a beat every time I think about what happened last night."
10. "I wish you were my teddy bear, so I could squeeze you until you explode."
11. "All I want is to make you dinner tonight, so I can be your dessert."
12. "Hey babe, just wanted to let you know how grateful I am to have you in my life...and in my pants. ILY."
13. "I'm typing this with one hand because my other hand is busy… making waffles ;)"
Ultimately, mixing humor with something a little more scandalous can be a fun way to spice things up and show your bae you don't take yourself too seriously. These will probably be especially well-received if they were complaining to you about having a slow, boring day at work, or if you know they have a big project due and have been stressed at their nine-to-five. Whatever the reason, your honey will definitely appreciate a flirty, fun text from you, so type away and get yours, sister.