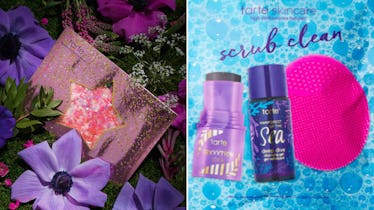 13 Of The Best Beauty Gifts Under $10 That'll Seriously Upgrade Your Bestie's Stocking
You wish you could shower your BFF with a million presents for the holidays, but unfortunately, you have other people to shop for, too. Luckily, there are a ton of beauty gifts under $10 for 2018 to stuff your bestie's stocking with. If your BFF lives by the motto, "Treat yourself," you know she'll adore a pampering face mask, or will love rocking her new lip balm under the mistletoe. There's a beauty gift out there for every BFF, and I'm here to be Santa's little helper to help find the right one for yours.
These 13 gifts are perfectly priced, so you can get a little something sweet for your entire squad. It's always the best feeling in the world when your gift is a huge hit during a holiday grab bag. Not only will you be able to pat yourself on the back, but you'll be able to give yourself major props for staying well under budget. If you're feeling super jolly this holiday season, you could also plan a girls' night in, and surprise your friends with mini holiday stockings filled with a gift for each one of them. Whatever your plans are, you'll be feeling fab, and so will your wallet.