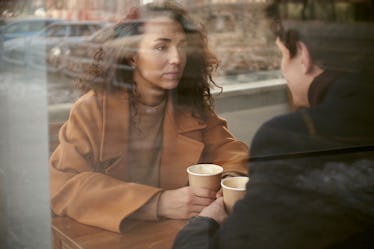 Don't Despair, Here Are 12 Ways To Salvage A First Date That's Going Terribly
Ask any modern woman to tell you about a bad first date, and she'll probably say, "Which one do you want to hear about first?" Whether you were set up by a mutual friend or you've only interacted over dating apps, it's not out of the ordinary to meet someone for the very first time at the start of the actual date. If you want to fix a bad first date before it turns into your new worst first date story, you've come to the right place. I'm assuming your date is in the bathroom right now, so I'll make this quick. I asked two dating experts about how to deal with 12 common scenarios you might experience on an uncomfortable first date.
When it comes to the initial date, I try not to have any expectations. It's easier said than done, but there's nothing worse than getting your hopes up about someone and then spending an hour making awkward small talk over a weak $14 cocktail. If you feel like your night is going downhill faster than you can down your glorified tonic water, don't worry. You may still be able to salvage it. Assuming your date didn't do anything unforgivable, this could be an experience you laugh about down the line — maybe even together.