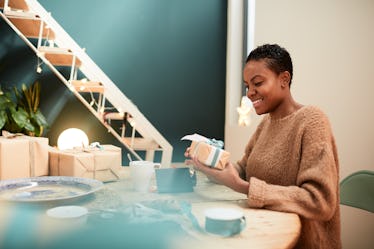 These One-Of-A-Kind Maid Of Honor Gifts On Etsy Will Cue The Happy Tears
Tempura/E+/Getty Images
Your wedding is your special day, but that's not going to stop you from showering your maid of honor with extra love. After all, you wouldn't want to get married without them by your side, supporting you as you say, "I do." You already have wrapping paper, ribbons, and even a sweet card. Snag one or two of these unique maid of honor gifts on Etsy next to support a small business, celebrate your friendship, and prep for the big day.
Each of these unique maid of honor gifts on Etsy are sure to make your BFF smile wide and say, "I love this." Some are items they would want to use on a daily basis, because it'll help them make their favorite drink on their Instagram Stories. Others will look aesthetic next to a pile of coffee table books in their home, or reference a sitcom like Schitt's Creek, New Girl, or Friends. A few of these unique gifts are even sentimental for the bride and maid of honor duo that's all about heart-to-hearts.
Scroll through the following list, and find the unique maid of honor gifts that are most fitting for your relationship. You can order one gift or two, but should give everything to your maid of honor prior to your wedding day. They can cherish their hand-picked gifts before the happy tears, getting ready photos, and toasts begin. Ready, set, shop!
We only include products that have been independently selected by Elite Daily's editorial team. However, we may receive a portion of sales if you purchase a product through a link in this article.