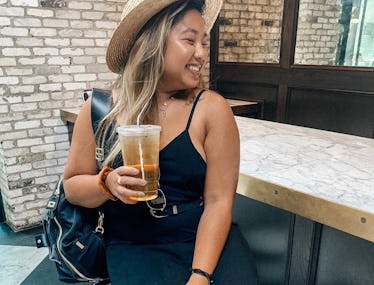 12 Things That Are Always In My Travel "Go Bag" So I Can Ready, (Jet)Set, & Go
There are a lot of steps to take to having a really successful vacation. Once you plan an itinerary, book everything, remember to pack everything you need, get on a plane or in the car, arrive at your destination, check into your accommodations, and finally settle in, you still have plenty more things on your to-do list. For starters, you definitely need to know what things to have in your travel go bag so you can be sure you're prepared for anything that comes your way while you're on the road.
Luckily, I've been on a few trips myself — I've visited 10 new countries in 2019 alone — and I can help out in this department. Through my frequent travels I've figured out what I absolutely need to have with me while I'm out and about, from a travel wallet to a hair moisturizer.
I should also note that, while the contents of my go bag are very important, I also have a very specific taste in what kind of bag I use. I'm partial to the Caraa Sport Studio Bag (I have the medium size in two different colors), and it has never done me wrong. It has so many pockets, a ton of space, and looks super stylish. I never leave the country without this bag, and even though it's a bit of a splurge, I'd buy it over and over again.
On your next trip, make sure you bring these 12 things in your go bag so you can ready, (jet)set, and go.