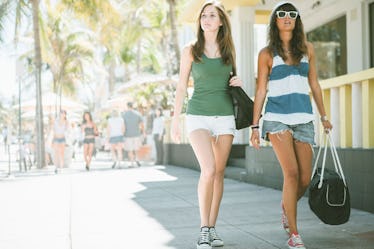 These Affordable Weekender Bags On Amazon Are Great For Memorial Day Plans & Beyond
With Memorial Day Weekend right around the corner, you probably already have a micro-trip on the books. Whether you're escaping the city and heading on a beach getaway, or going home to visit your family for a couple of days, a MDW trip is always the perfect way to kick off — and officially welcome — summertime. Because the trip will only be a couple of days long, you probably don't need to bring your go-to roller suitcase (But no judgment if you do!), so I've rounded up the best weekender bags on Amazon that'll look perfectly adorable and won't break the bank.
Weekender bags are great for a lot of things. Of course, they're made for the person who's simply headed out of town for a few days, but they can be used for so much more. Duffel bags can be used for the gym, and if they are small enough to fit underneath the seat in front of you, they can work as your "personal item" when you're flying. If you make the investment, you're sure to get a ton of use out of your bag, both for Memorial Day Weekend and trips down the line.
I know that searching for the perfect bag can be quite overwhelming, so I've done all the work for you. Here are some of the cutest — and most affordable — weekender bags I found on Amazon.