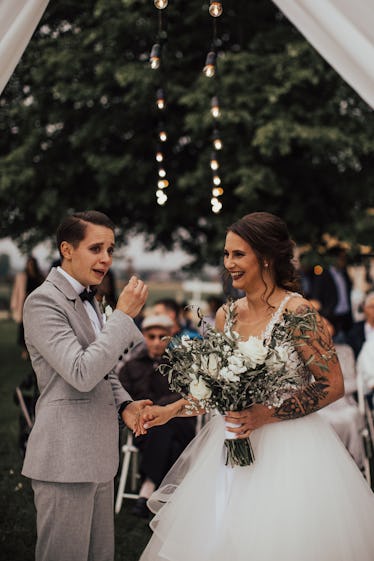 I'm Not Crying At These 12 Photos Of Partners Watching Brides Walk Down The Aisle
I could spend hours scrolling through photos of weddings. Call me a hopeless romantic, but there's something so deeply touching about seeing the little moments from someone's big day. From the dresses to the flowers to the first dance, I can't get enough of the details. And maybe my favorites are the photos of partners watching brides walk down the aisle. Cutest. Freaking. Thing. Ever.
According to tradition, couples often wait until the ceremony to see each other in their wedding outfits for the first time. But not everyone is doing that these days — many couples now choose to do a first look before the ceremony instead. Whether or not they've seen each other beforehand, the moment when the bride walks down the aisle often fills both partners (and the audience) with emotion. I haven't gotten married yet, but I can still relate to this. When my childhood BFF walked down the aisle a few years ago — and I stood up near the altar as her maid of honor — I cried off all my mascara in front of everyone. The photos were embarrassing, but the emotions were very real.
Because I'm clearly all about the sappy wedding content, I've gathered the sweetest photos of people watching their partner walk down the aisle. I hope you're holding tissues, because you're about to need them.