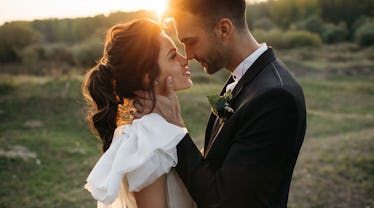 8 People Shared The Most Romantic Part Of Their Wedding, & I'm Emotional
Wedding season is upon us. Did you just audibly sigh? Listen, I get it, it's so easy to be cynical about weddings since they frequently come with a hefty price tag and plenty of potential for family and friend drama. That can make it easy to lose sight of the fact that, at their core, weddings are about two people who love one another committing to share their lives — through all the good and bad. That's awesome. They're also pretty romantic, so when people shared the most romantic part of their wedding on Reddit, I'm not gonna lie, it made me get a little emotional.
There's just something about these firsthand accounts of the quiet, private moments that really mattered to people on their wedding days that makes you want to forget all about the wedding industrial complex trying to up-sell you on wedding favors and embossed saved the date cards. The place-setting strife and bridesmaid fighting just melts away. I'm joking, obviously — that stuff is still a bummer, but it's a great reminder of why all the hard work of putting together this big event is worth it. It's all about the love, people!
Hey, when did I get so sentimental? Probably about halfway through reading these stories. Grab a tissue.