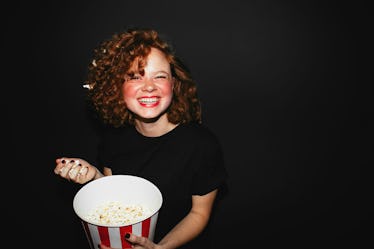 12 Movies To Watch After A Breakup That'll Feel Like Chicken Soup For Your Soul
When you're recovering from a breakup, you could find yourself on an emotional rollercoaster that takes you from high points where you might make out with a hot stranger at a bar, to low points where you might find yourself truly unable to get off the couch. If you find yourself losing the battle with gravity, go ahead and cuddle into your couch and peruse this list of movies to watch after a breakup! After all, what better way to stop refreshing your ex's Instagram feed than by getting lost in a great movie for a few hours?
Movies can also help you work through your feelings, trust me! After a particularly frustrating conversation with an ex-boyfriend recently, I scrolled through the movies on my Apple TV and after watching The Rock smash things and generally save the world from disaster in San Andreas, I honestly felt so much better. Since I couldn't go out and smash things myself, watching him do it was the next best thing! So whether you need to have a good cry, want to laugh and forget your worries, or be reminded that love does exist out there in the world somewhere — there's a movie for that! So grab your remote and choose one of the follow flicks to soothe your bruised heart.