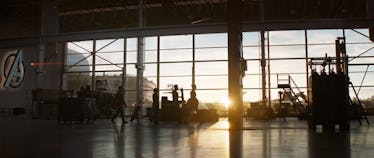 12 Marvel Cameos In 'Avengers: Endgame' That Will Make You Smile From Ear To Ear
Marvel
Avengers: Endgame isn't just one movie that's standing alone at the end of a 22 film run. It's a celebration of all the movies that came before, and in honoring them, it incorporates no less than three of those earlier films as part of the plot. It also manages to round up characters from all over the Marvel Cinematic Universe making it one of the most cameo-heavy of the sequels ever. Let's highlight 12 of the Marvel cameos in Avengers: Endgame. Warning: Spoilers for Avengers: Endgame follow.
There were many "blink-and-you'll-miss-it" style cameos dotted throughout the film. Many of them were simply characters existing as part of the backdrop, like Angela Bassett as T'Challa's mother, Michelle Pfeiffer as Janet van Dyne, or Marisa Tomei as Aunt May. There were also a lot of superheroes relegated to small-time roles, like Hope van Dyne as Wasp, or Letitia Wright as Shuri.
But those were all expected characters who would eventually turn up. The real cameos are the ones no one saw coming. Everyone expects to see Tom Hiddleston if the plot is to go back to the moment of Loki's capture and steal his Infinity Stone. What fans didn't expect were these surprise appearances.