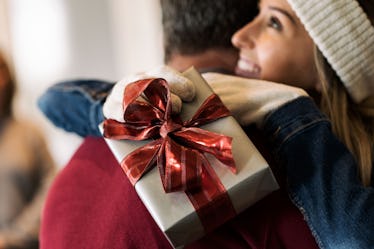 12 Holiday Gifts Your Sporty Significant Other Will Flex & Flip Out For
I love almost everything about giving gifts during the holidays. I get a rush when I have a stack of gifts to wrap, I love using fancy bows and ribbons, and watching someone unwrap and love something I've given them? Pure heaven! The only thing I don't love about gift-giving this time of year is when I'm stumped about what to get for someone. If you have a sports fan in your life and you have no idea what to get for them, check out these holiday 2018 gift ideas for your sporty significant other.
Whether your boyfriend or girlfriend is a sports fan or a fitness fanatic, getting them something that represents their favorite team or enhances their workouts is a great idea. A new yoga mat or a set of wireless earphones will help your honey get in the zone, and a shiatsu massager and facial care kit will help them relax post-workout. If your bae has a favorite team, they'll love to show their support with some team logo apparel like a cozy hoodie or a chic infinity scarf. While giving gifts can be tricky — and you most likely really want to give your loved one something they're really dig — this list will make scoring a perfect gift for your sports-loving sweetie a total breeze.