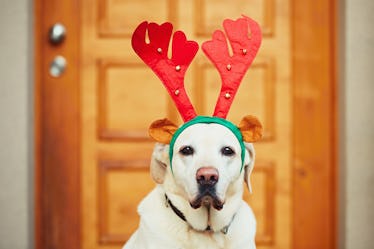 12 Dogs Dressed Up As Reindeer Who Have Way More Holiday Swag Than You
It's true that Santa is the main man for Christmas — bringing presents and spreading Christmas cheer throughout — but what would he do without his reindeer? The answer is that he'd be stuck AF in the North Pole. The reindeers are the heroes of this merry holiday. And just as Santa would be nothing without his reindeer friends, you'd probably feel like your soul is incomplete without your furry best friend (aka your dog) by your side. Some owners get very into the holiday spirit and decide to break out Christmas costumes for everyone in the fam to wear, which leads to many wonderful pictures of dogs dressed up as reindeer.
Just looking at these pooches will help anyone who is having a blue Christmas cheer up in no time. Just look at their faces! We literally can't even handle the cuteness overload. Sure, some of them look like they would much rather not have those silly antlers on their heads, but they know a treat is on the way. And what a treat it is to see these dogs in reindeer costumes, amiright?
If you didn't believe in the magic of the season before seeing these festive pups, I bet you will now. These 12 fur babies in their reindeer best are totally sleighing it. It's all fun and reindeer games until a dog gets some antlers on their head, and now all of our hearts are melting like snowflakes. OK Rudolph, we have some new reindeer to save Christmas this year right along with you.