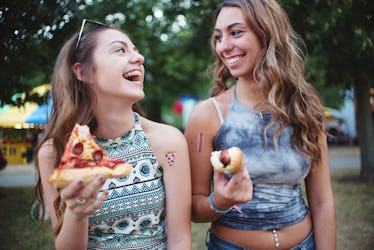 12 Minimalist Tattoos To Get With Your Cousin So You're Always Connected
Family is so important. I don't know about you, but my mom is my hero and my sister is my person — but they're not the only ones who I hold near and dear. I also love my cousins, and consider them to be some of my best friends. Cousins are special, because they're basically like siblings without all of the actual sibling drama. I love my cousins so much, despite the distance. When we reunite at a family gathering or holiday, we start chilling like no time has passed at all. It's safe to say that cousins are the ultimate BFFs, and that's why you would consider getting cousin best friend tattoos.
Tattoos can be the ultimate expression of who you are. It's displaying art for the whole world to see that is a unique representation of something special that speaks to your soul. When you have tattoos, you're probably constantly answering the question, "What is that one for?" If you get a bestie tat with your cousin, you really don't mind being asked constantly, because you're able to gush about how amazing your cousin is.
If you and your partner in crime are down for a tattoo, consider getting any of these 12 minimalistic designs. They may be small or simple, but the meaning behind them is so grand. No matter the distance, you will forever be linked — and that's really what family is all about.