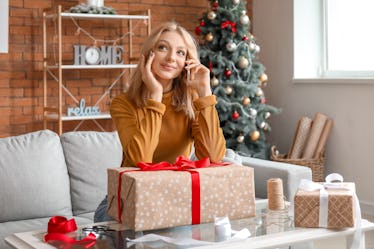 12 Holiday Gifts Your Partner's Parents Will Definitely Appreciate
Shutterstock
As if choosing the perfect present for your partner wasn't challenging enough, you're also tasked with picking out something their parents will love. Fret not, though. I've scoured the internet to find Christmas, Hanukkah, and Kwanzaa gifts for your partner's parents that are almost sure to win them over.
Obviously, the nature of your relationship with them will play a pretty heavy role in what gift you select. For instance, if you've already vacationed with your partner's fam, you'll likely want to go for something a tad more personal than if you've only met them once or twice. Keep in mind that as a general rule, you can never fail with anything food-related or anything for the home. And most importantly, thoughtfulness truly does count. So, if you recall your SO's parents mentioning a new hobby or interest offhand, finding a present that ties that in is guaranteed to blow them away.
When in doubt, you can always ask your partner for tips, as they know their parents better than just about anybody. Dig for deets on what gifts they've loved in the past, how they like to spend their free time, and what they might actually need right now. And if you haven't already earned their seal of approval, the following items will def do the trick.