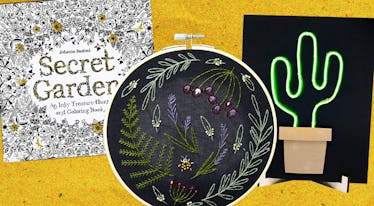 12 Arts & Crafts Activities You Can Do At Home For A Social Media Break
Kelsey Cadenas/Elite Daily
You can get your creative juices flowing with a simple click of a button, thanks to all of the arts and crafts you can order online nowadays. Whether you want to paint, sew, or assemble something, this roundup has something for just about everyone. You can make a new piece of artwork for your bedroom, or put together a cool terrarium for your patio. If you need help narrowing things down, choose from any of the 12 DIY craft kits on this list.
If you're hesitant to shop online amidst the COVID-19 pandemic, Elite Daily spoke with Elizabeth McGraw, professor and director of the Center for Infectious Disease Dynamics at Pennsylvania State University about potential risks about receiving packages during this time. "We have no evidence of people getting infected from packages, however, given what we know about how long the virus can live on surfaces it is best to take some precautions," she says. "I would not stop online shopping, although I would certainly only order much needed products to reduce the impact on the system. I would also take some precautions. When a package arrives, use gloves to handle it and also let is sit for three days before opening."
So, if you've found yourself attached to your phone or just want a fun activity to do, these art projects can be a refreshing break. Turn off your notifications, and instead turn on a chill playlist of all your favorite songs. Then, get your paint brushes or sewing needles ready to make something truly beautiful.
We only include products that have been independently selected by Elite Daily's editorial team. However, we may receive a portion of sales if you purchase a product through a link in this article.