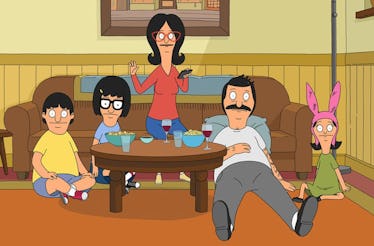 12 2019 Thanksgiving TV Marathons That Will Keep You On The Couch All Day
Fox
There's no holiday quite like Thanksgiving. It's not patriotic like the Fourth of July. It's not religious like Easter; it's not consumer-oriented like Christmas. It's just a random Thursday when it's too cold to grill where everyone stays home and eats. For some, this makes it the best holiday of the year. For others, it makes it a bit of a scramble. How does one entertain all these people in your house until it's time to eat? Don't worry; television is here to save the day. These 2019 Thanksgiving TV marathons on basic cable prove that those who haven't cut the cord have tons of options.
For some, movie marathons are what's required to keep the family occupied because TV shows are too short to hold focus. But for those who find movies are long and boring or want to be able to dip in and out at will, these back-to-back 30-minute and one-hour sessions that run all day are perfect.
Even better, there are marathons for every type of person. From reality competitions to prestige dramas, there's something for everyone here. There's even the super traditional Thanksgiving episodes marathon ending with The Wizard of Oz, for those who still hold with the 1960s era tradition.