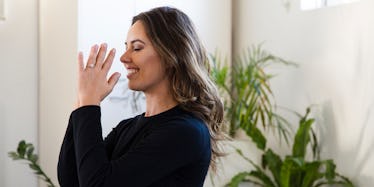 11 Yoga Essentials For Beginners Who Want To Commit To Their Flow In The New Year
The new year presents the perfect opportunity to take advantage of a clean slate by learning a new skill or taking up a new hobby. And with yoga quickly growing in popularity for its wealth of physical and mental health benefits, making time to hop on your mat come Jan. 1 will be just the TLC you and your body need for a fabulous 2018. If you're wondering what to invest in (besides a trusty mat) to absolutely slay all of your bendy sweat sessions, look no further than a carefully crafted list of yoga essentials for beginners.
To be honest, for an amazing yoga flow, all you really need is the power of your beautiful self and your incredibly strong body. However, there are plenty of props and accessories that take a casual yoga practice to the next level, by helping you avoid things like annoying nip slips in ill-fitting tank tops and slippery palms in downward facing dog.
If you know you're going to be glued to the mat in 2018, browse through these 11 awesome products that were basically made for any yogi who's looking to seriously commit to her practice. A new year means a new opportunity to treat yo'self, girl. Namaste, my friends!