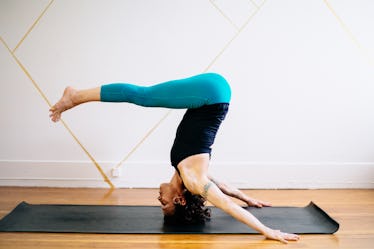 If You Wear Yoga Pants All Day Every Day, Here's What It Could Be Doing To Your Body
Yoga pants are truly my second skin and ever so constant lifeline. As a yoga instructor who swears by these heavenly, spandex-clad creations, I personally like to refer to jeans as "leg prison." But since I literally eat, sleep, and breathe in my leggings, I couldn't help but begin to wonder, are yoga pants bad for you, especially if you wear them all the time?
A simple Google search immediately validated my casual concern, revealing the potential drawbacks to wearing yoga pants all day every day. I low-key panicked and began to wonder if I would have to subject my poor legs to the confines of a denim-clad jail cell for the rest of my life. Dramatic? Honestly, I don't think so — at all.
On the real though, I'm not saying that if you slap on a luxuriously comfortable pair of yoga pants once in a while, you're going to need to keep 911 on speed dial or something. But if you religiously sport them on the reg, there are definitely precautions you're going to want to take. If you're not careful, you could be dealing with some yucky side effects, including butt acne, "tights pants syndrome" (yes, it's a thing), and potentially even *gag* fungal infections.
So, if you're like me and yoga pants are basically a way of life, here are six surprising and totally weird things they could be doing to your body, and how to prevent these travesties.