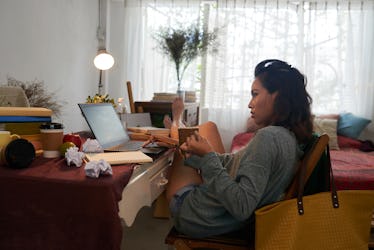 11 Realities Of Moving Into A Dorm That'll Help Make The Transition Smoother
Shutterstock
Pretty soon, you'll be off to college, but right now, you're packing up and getting everything together that you might need to live your best #DormLife. If this is your freshman year, you might not be entirely sure what to expect. You may wish to have something similar to Rory's dorm situation from Gilmore Girls, but the truths of moving into a dorm aren't exactly the same as something you'd see on TV or in the movies.
I can definitely tell you that Felicity's "NYU" dorm was certainly not my experience. I had to share a room half that size with two other roommates and closet space that wasn't even big enough for one person. It was an adjustment, but I actually loved it. In fact, I lived in the dorms all four years of college. As much as I wanted rooms like Rory and Felicity's to be real, I was faced with adjusting to living in the dorms those first few weeks of freshman year.
It's not the same as living at home with your own room, and having your siblings, parents, and friends there to help out. For the first time ever, you might be on your own. Luckily, it's a lot easier to manage when you're faced with these 11 truths ahead of time. As long as you're prepared, you'll be ready to tackle the school year with all the confidence.