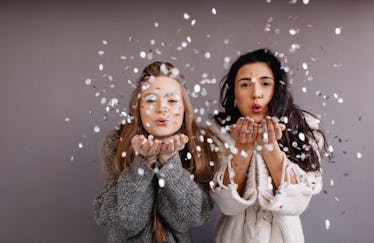 11 Things To Do On Your BFF's Birthday That Are Way Better Than Brunch Or Dinner
Your best friend's birthday is basically just as exciting as your own. As BFF, it's your duty to make sure the PB to your J has the best day ever. That might mean taking the reigns as party planner. Your usual go-to may be heading to a nice restaurant with your best friend's entire squad, but this year, you're looking for things to do on your best friend's birthday besides brunch or dinner.
It's fun to spice things up, and who doesn't love a good birthday surprise? Plan something different to show your best friend that you put extra thought into their special day. It can be a total throwback to the parties you used to have growing up, or something brand new you've never done before. Either way, it will all be worth it when you see the smile on your bestie's face.
Don't worry if you're fresh out of ideas. As a birthday-obsessed person who loves celebrating, coming up with party ideas is one of my favorite things to do. Look over any of these 11 birthday ideas, and see what would be perfect for your BFF's big day. Then, have the best time celebrating your favorite person ever.