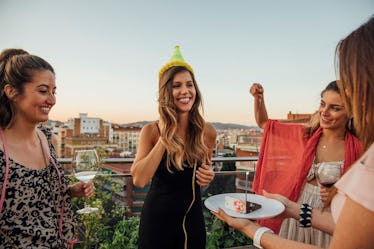 9 Things Millennials Still Get Excited About On Their Birthday That Take The Cake
Let's be honest: Your birthday is the most exciting day of the year. It's a day where you get to soak up that beautiful spotlight, throw some glitter in the air (if that's your style), and savor the most aesthetically-pleasing confetti cake like a queen. Not to mention, it's the perfect excuse to treat yourself and party like a rockstar. You might not have a party that's as extravagant as when you were a kid, but there are still a few things millennials get excited about on their birthday that you can't wait for each and every year.
I'm definitely one of those people who tries to turn their birthday into an entire month of celebrating. I can't help it if there are so many things I want to do. From the birthday dinner with my besties, to spending quality time with my family — I want it all. You only get one birthday each year, so you might as well do it up, right?
As a millennial, you're working your butt off on the regular establishing that work-life balance. It's a lot, and you've been killing it since day one. If that's not enough of an excuse to party on your birthday, I don't know what is. So this year, don't hold yourself back from enjoying these nine things that make birthdays the actual best.