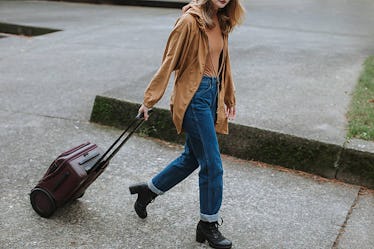 I'm Traveling To India & The Maldives For 10 Days & Here's What's In My Bag
Regardless of how many times I get on a plane, visiting a new place is always exciting for me. It's thrilling to get to immerse myself in another culture and learn new things about people from around the world. Tonight, I'm leaving for a 10-day trip to India and the Maldives, and I could not be more excited. I'm quite a stranger to cultures of both countries, so I had to do the proper research as to what is appropriate to bring in terms of dress, skincare, and accessories. Here are just a few of the things I'm packing for my trip to India and the Maldives.
Though I had to buy a lot of random things for the trip — like an India-specific power adapter, mosquito bracelets, and a seemingly-endless collection of maxi dresses — nothing can deter how excited I am for this adventure. I'm going to be visiting the northern part of India (two nights each in Delhi and Jaipur) and the rest of the trip island hopping in the Maldives.
I'll be staying at incredible hotels, including Taj Mahal, New Delhi, Jai Mahal Palace, Jaipur, Taj Exotica Resort & Spa, and Conrad Maldives Rangali Island, to see and experience the best of Indian and Maldivian hospitality. While in Delhi, I have plans to take a day trip to Agra to see the Taj Mahal in person, and I've already put together a list of all of the most Instagrammable spots in Jaipur.
Because I love learning about traditions from around the world, I've arranged to learn more about Indian beauty and wellness techniques, as well as holistic treatments while I'm at the Jai Mahal. I'll definitely indulge in some spa time at the Conrad, and I want a pic jumping into the ocean at the Taj Exotica.
I'm positive that this is going to be the trip of a lifetime, and regardless of what I pack in my bag, I'm going to have an amazing time.
1. The new iPhone
2. Mosquito repellent bracelets
3. A straw hat
4. A breezy maxi dress
5. A flowy, cream sundress
6. Comfy, chic leather sandals
7. A good lip balm
8. Sheet masks
9. Kiehl's eye cream
10. A lightweight moisturizer
11. A tinted blur stick