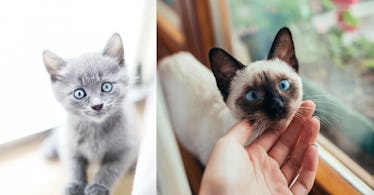 11 Pictures Of Kittens With Blue Eyes That'll Make You Feel All The Things
Cats are the cutest animals alive, and if you disagree, you have seriously got to be kitten me right now. For real though, if you've ever looked into the eyes of a feline fur baby, you know how adorable they can be. On a scale of cuteness, cats are precious, kittens are too much to handle, and blue-eyed kittens are straight-up cuteness overload. In fact, the overload can cause some serious side effects. For instance, pictures of kittens with blue eyes could melt someone's icy heart.
I don't know if it's humanly possible to look at a blue-eyed fur baby without audibly squealing from delight. I know my symptoms after seeing a cute kitten include wanting to cuddle them forever. So, you have officially been warned. These 11 photos of kittens with blue eyes will cause you to feel all the things.
Grab the tissues if you tend to cry from pics of adorable animals. You might even need to step out of the quiet cafe you're currently sitting in, because I cannot guarantee you won't be awe-ing the whole way through this post. No matter what happens, these blue-eyed babies will definitely cause a pawsitive impact on your day just by being the most purrfect little kittens you ever did see.