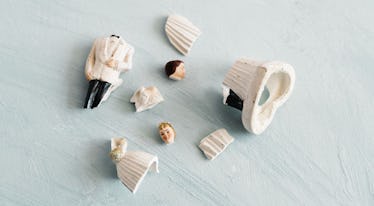 11 People Reveal What The Final Straw Before Divorce Was For Them, & OMG, It's Intense
No one goes into marriage planning on getting divorced. Even if you try to be patient and swallow a lot of hurt in your relationship in order to make it work, eventually, there can be a final straw, and you won't be able to take it anymore. That's where divorce may be a good idea. According to these stories from real women, deciding to get divorced isn't always easy, but it might be what's best. In fact, the final straw before divorce proves that sometimes, you have to do what you have to do.
Obviously, if you've got divorce on the brain, then it means things aren't exactly looking up in your marriage. But, these stories from people who've lived it show that sometimes, that final straw isn't a huge blowout. Sometimes it's something that, on it's own, wouldn't be too big of a deal, but because it was the end of the line for their relationship, they couldn't take it anymore. Divorce is intense, but perhaps the hardest part of it is just deciding whether or not to actually go through with it.
So, no matter where you are in your own relationship — whether you're single, dating, married, separated, divorced, or anywhere in between — just read on. Because seriously, these stories range from heartbreaking, to hilarious, and just about everything else.