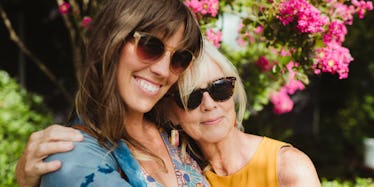 The Best Mother's Day Gifts For The Mom Who's Just As Obsessed With Self-Care As You Are
Whenever I start to feel like I'm losing all faith in humanity, I remember that moms exist. And since there's a holiday coming up dedicated especially to your mama, that means it's time to get those brain wheels turning in preparation for the best gift ever for your favorite human. Personally, I think wellness-centered gifts are always a hit. Whether you always partner up with your mom for a good sweat sesh, or you know she's been talking forever about wanting to get into a solid skincare routine, you really can't go wrong with Mother's Day wellness gifts for the number-one lady in your life.
Moms are the role models who are always there for us ladies, no matter what. They prove time and time again that, no matter how bleak things might look in life, there is pure goodness, compassion, and kindness in this world. Whether your favorite lady is related to you by blood, or she's simply a mama figure you've always looked up to, most of us have that one woman in our lives who we would literally do anything for.
And since caring for your body, and making time for joyful, mindful movement, are the ultimate forms of TLC, gifting your mama a wellness present will show her, in a totally unique way, just how much you appreciate everything she does for you (along with an aggressively personalized and handcrafted card, of course, because moms love that stuff).
If you're wondering what to get your mom this Mother's Day, and you know that healthy living is right up her alley, these 11 gifts will be absolutely perfect for the OG woman who always inspires you to sweat your stuff and take care of your body.