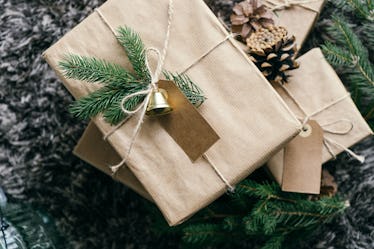 11 Holiday Gifts That'll Give Your Travel-Obsessed Significant Other Wanderlust
For some, the idea of traveling during the holidays sounds like a nightmare. For others, the idea of traveling anytime at all sounds like heaven. If your boyfriend or girlfriend has a serious case of wanderlust, they most likely have a few dream trips on their list. But instead of splurging for plane tickets for your partner, consider these perfect holiday 2018 gift ideas for a travel lover!
Even the most well-seasoned traveler might still get an achy neck on a plane, forget which adapter they need for which country, or misplace a boarding pass or itinerary. Having the right gear can make a trip so much smoother, regardless of whether you're dealing with delays or detours.
While your adventure-seeking boyfriend or girlfriend may have a lot of great travel gear already, these things will take their travel game from solid to stellar. Spinner luggage sets make whisking through airports a breeze (yes, there are two sets on this list because they're both so great!), a travel journal will help you jot down remember your experiences, and who doesn't love a great moisturizer to stay hydrated and glowing after long flights? If you and your boo decide to take a trek together, there's a few things on this list that you might just want to get two of!