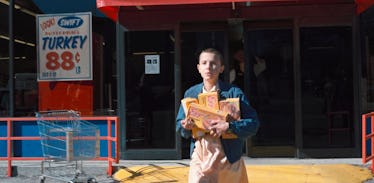 11 Unique Gift Ideas For The BFF Who Loves Waffles As Much As Eleven
In Stranger Things, you know the way to Eleven's heart is through some waffles. Who could blame her? Food really is a great way to show someone you love them, and waffles are just fluffy goodness you can eat anytime of the day. Don't let anyone tell you otherwise — you can have waffles for every meal. If you have a friend who is eerily similar to Eleven because they loves waffles, you know that any of these gift ideas for waffles lovers are the perfect presents to get for their birthday or any holiday.
You could also just get your friend a waffle present to show them that you love them a waffle lot. There doesn't really need to be any particular reason, just like you don't really need a reason to make some waffles. Also, waffles go great with anything, so you can find pretty much any gift you want to get your friend with a waffle twist to it, from jewelry and clothing, to candles. You never have to get stuck (like Will in the Upside Down) trying to figure out what to get your waffle-loving friend. Consider giving them any of these 11 — like Eleven — waffle items you can find online.