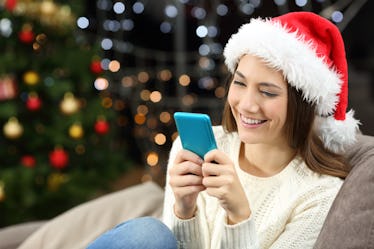 11 Best Tweets About Christmas That Millennials Will Get A Holly Jolly Kick Out Of
Christmastime is officially here, and you can feel the excitement in the air. Right now, the party invites are rolling in, everyone's decked out in festive sweaters, and you can't get enough of the seasonal drinks at your local coffee shop. It really is "the most wonderful time of the year," and people on Twitter are here for it. In fact, some of the best tweets about Christmas are making me fa-la-la-la-laugh all month long. As we count down the days to Dec. 25, most millennials have a side clock that's counting down the days until Christmas break.
Out of all the presents you'd like to see underneath your tree, there's truly nothing better than going back home and spending time with your family and friends. You've worked hard all year long, so it's time to have some festive fun with your loved ones, but also kick back and relax with a mug of hot cocoa.
If you're just as pumped as I am, you'll get a holly jolly kick out of these 11 tweets about the Christmas season. You might even want to share them with everyone you know to spread even more holiday cheer. Now, if you'll excuse me, I have mistletoe to hang and gingerbread cookies to decorate, because its Christmastime, and I'm going all out.