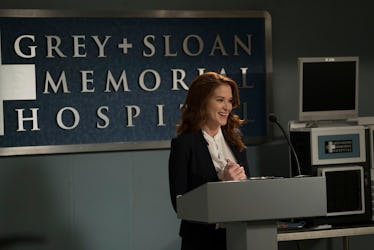 11 April Quotes From 'Grey's Anatomy' That Will Make You Want To Curl Into A Tiny Ball
ABC
When Grey's Anatomy announced a few weeks ago that longtime star Sarah Drew would be departing at the end of Season 14, there was heartbreak across the fandom. Drew has been part of the series since she was first introduced as April Kepner in a recurring role in Season 6. April may have been created for her new colleagues to hate when she came to Seattle Grace, but these April quotes from Grey's Anatomy prove over the years, she's become one of the most beloved characters of the series.
The show seems to be readying to kill April off, putting her and new (well, sorta new) boyfriend, Matthew Taylor, in a deadly-looking car accident that put her in a ravine and seemingly on the brink of death despite all the hard work of her colleagues. But, for at least for the moment, the show didn't go all the way through with it. The gang at Seattle Grace pulled off a miracle and "rebooted" April back to life. By the end of the episode, her eyes were open, and her relationship with Jackson might have gotten slightly more complicated as he begged God not to take her.
But this leaves one more episode before April leaves the show for good. Will she die after all, or will she be allowed to exit the show with hope that one day she can return? Fans will find out in the finale.
Until she goes, fans want to remember all her greatest lines on the show. Here are 11 of her best pearls of wisdom.