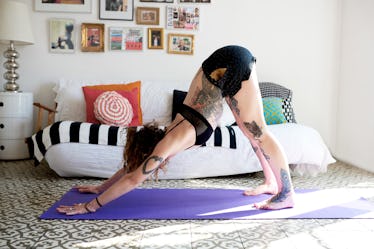 10 Yoga Poses That'll Honor Your New Year's Resolution To Move More Every Day
During the first few months of a brand new year, motivation is at an all-time high, and it's the perfect opportunity to pursue a new hobby or skill. So, if you caught yourself wistfully gazing toward your local yoga studio for most of 2017, but never actually got around to trying a class, 2018 is your time to start moving your body in ways that make you feel amazing. Whether you're signing up for a studio, or flowing in the comfort of your own home, some simple yoga poses for the new year will be sure to unite your mind, body, and soul, setting you up for a blissful 2018.
Yoga is an incredible way to marry your breath with the movement of your body to quiet your mind and ease everyday feelings of stress. It can be easy to feel like you're not "flexible" or "graceful" enough to participate in this ancient practice, but the truth is, if you can breathe, you can do yoga and, as a result, reap its many incredible physical and mental health benefits.
Sure, you're not going to start out by doing ultra complicated arm balances and deep backbends, but honestly, less is more when it comes to yoga. Honor the simplicity of the start of your yoga journey, and know that the more consistently you show up for yourself on your mat, the more you'll see your practice evolve. If you're just starting out as a yogi, try these 10 basic poses that will give your body all the TLC in 2018.