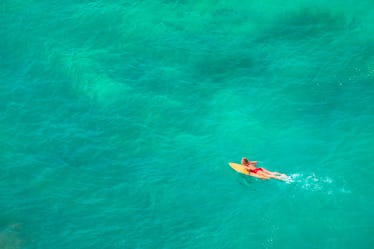 The 10 Best Turquoise Water Beaches Will Give Your IG Aesthetic Serious Mermaid Vibes
It's officially summer, so that means it's time to hit up the beach. There's no better time to soak up the sun, sand, and sea. Get your girls together and plan a beach getaway for the books. This will be the perfect time to relax and spend necessary time with the people you love most. You can go swimming, snorkeling, tanning, and so much more. When you're searching for beach destinations, it's important to choose wisely. These turquoise water beaches will give your Instagram serious mermaid vibes.
We can't get enough of white sand beaches with turquoise water. They're picture-perfect and they're also made for some serious relaxation. After all, we all need a healthy dose of Vitamin Sea every once in awhile. Life can get so busy, and a tropical beach vacation works wonders for the soul. It's truly an ideal setting to step away from it all and fully enjoy your surroundings.
You'll be so blown away by these beaches, so why not plan a trip ASAP? Imagine waking up to the sunrise on the beach, playing volleyball under the sun, and sipping on a mojito by sunset. There's an endless amount of beautiful beach destinations around the world, but these 10 turquoise water beaches definitely set the bar quite high.