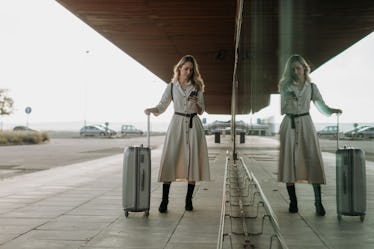 10 Tried & True Things I've Used To Get Through TSA In A Breeze
I'll be the first person to admit that flying can be a hassle — and that's coming from someone who travels for a living. Packing is stressful, airports are always crowded, going through security is the worst, and checked baggage fees can be a nightmare. I have Global Entry and TSA Pre-Check now, but before I did, I constantly got frustrated waiting in the long lines and dreaded pulling out my electronics and taking my shoes off. But after putting my patience to the ultimate test time and time again, I have come up with some tried and true things that'll get you through TSA quickly and efficiently.
Let me start off by saying that I know there are rules for a reason, and I'm so grateful that we have an efficient security system in place so that we can all fly safely. However, with those rules come a lot of restrictions that can often make travel time a lot longer. Luckily, I think that my tips and tricks have made it easy for me to get through security in no time at all — even without Pre-Check.
If you're a frequent traveler and need some help on getting through TSA in a breeze, consider trying out a few of my suggestions.