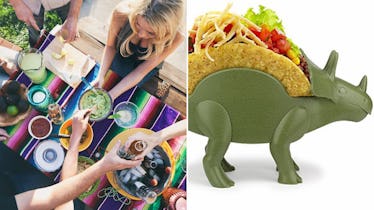 10 Genius Things On Amazon Under $20 That'll Make Your Taco Tuesdays Way Better
Sean Locke/Stocksy/Amazon
The beginning of the week was a total drag until society harmoniously decided Tuesdays were meant for eating tacos and sippin' on margs. Taco Tuesday is the vegetarian, asada, or chicken-filled day of the week. It's no Friday, but tacos sure taste like the weekend is not too far off. To further sell you on this blessed day, there are things on Amazon under $20 that will make your Taco Tuesday extra lit and memorable.
You never forget the first time you take a bite into a delicious taco. It's like the world stands still, and all of a sudden you are knee-deep in pico de gallo, guacamole, grilled onions, and your friend telling you to stop sniffing the amazing salsa choices. The art of tacos seems simple, but if you're doing it just right, you know there's a perfect science to this food.
Hosting a Taco Tuesday party or indulging elsewhere shouldn't be done all willy-nilly. Finding little gadgets or hacks to help you further enjoy this delicious AF food will make your Tuesday so much more enjoyable. If you're a huge Taco enthusiast like me, any of these buys will make you want to skip down the yellow tortilla road with your dog, Taco.